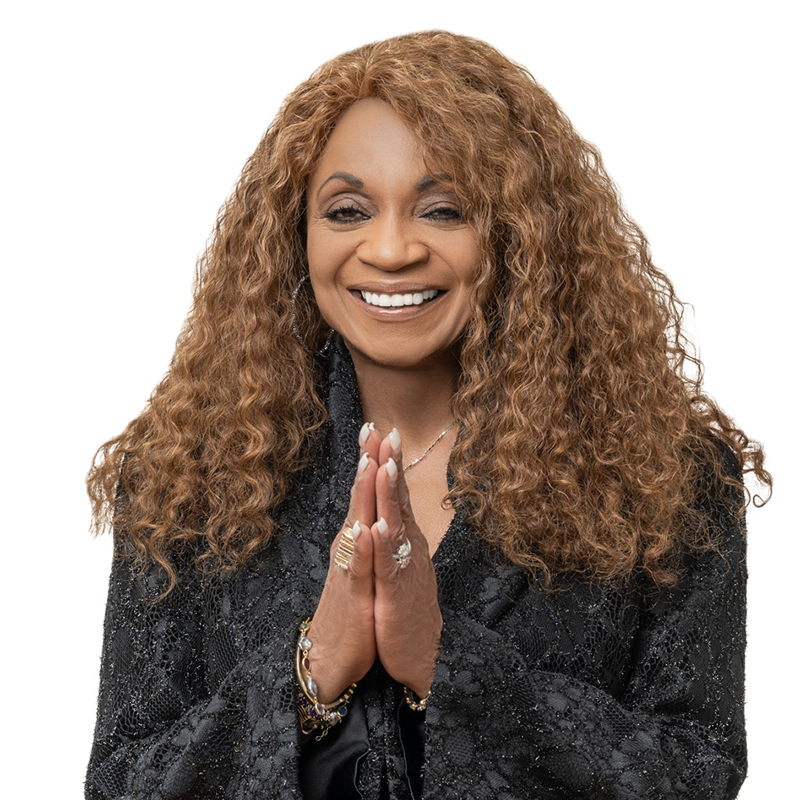 Eugenia Foxworth
The Journey of Eugenia Foxworth
Life's journey is a road that is to a degree personalized by that person who is traveling down that particular path. The stops along the way can either be quite a few or several of many. Either way, each stop results in a milestone where that person can make a difference in the lives of many while they are at that cornerstone.
The journey of renaissance woman Eugenia Foxworth has many milestones – scholar, fashionista, owner of fine art gallery, flight attendant/courier, real estate business owner and organizational president, scholarship committee executive, podcast host - where not only was much accomplished at that destination but has made sure the lives she's touched were enriched and for the better.
Ms. Foxworth's life began in Pennsylvania, the daughter of an interracial couple. "I was born in Philadelphia. My parents were very young at the time – my mother was African American, and my father was white and British. My mother was very late in finding out that she was pregnant with me," she explained. "At birth I was registered as a British citizen and starting at one month old, I was raised with my father in London. When I was old enough to travel, I would live with my father in London as well as my mother, who remained in Philadelphia after she and my dad were divorced – mom had remarried afterwards. Then when I turned thirteen, I moved to Philadelphia."
Being raised in two countries each with their own set of cultural differences could make one's head spin, but not Eugenia Foxworth. "My upbringing in both London and Philadelphia was really the elixir of life because I had the best of both worlds," says Ms. Foxworth. "Being raised in London meant being in a more formal environment. I attended a boarding school as a child which meant wearing a uniform and looking a certain way. In Philadelphia, my life took a completely different turn. My mother lived in West Philly. The kids made fun of the way I spoke and looked, because of that British formality. At the time, though, my father enrolled me in kickboxing classes after I was assaulted by a female bully. So when this same bully came after me again and I beat her up, all of a sudden no one wanted to be around me so I didn't have many friends at first. But over time while living in Philly I did develop friendships with other kids who were like me – smart, nerdy and such. But what I did like about being raised by my mother and stepfather was the amount of freedom I had here in the states – being able to meet people and make friends. In Britain, I was isolated, in a cocoon so to speak. But while in London, I was exposed to so much in terms of art, music and fashion being that was and is the city where a lot of those facets came together. So many cultural aspects I had experienced in London I would later see while in Philadelphia."
Two main "guideposts" in life had a tremendous influence on Eugenia Foxworth – one a parent, the other an iconic figure in civil/human rights. "First, my father was a large inspiration in my life. He taught me that I could be whoever I want to be as long as what I was doing is legal and moral. My paternal grandfather pointed out to me as a child that I'm different and unique, which makes me a special person. Then years later after I graduated from college and worked for Eastern Airlines as a flight attendant, I met civil rights icon Bayard Rustin (known in history as an early mentor of the Rev. Dr. Martin Luther King, Jr. and the force behind the March on Washington in August, 1963). We met in Philadelphia then reconnected in New York City. Mr. Rustin was one who encouraged me to pursue my dreams and my work."
While attending Drexel University in Philadelphia, Ms. Foxworth earned a bachelor's degree in civil engineering. "I earned a scholarship from the Philadelphia Board of Realtors to attend Drexel," she explained. "At that time, I was interested in interior design and architecture of houses. So, as a civil engineer, one can do projects in that area. Problem was at Drexel there seemed to have been resentment towards women who were attending the college at the time. Therefore I didn't pursue a career in civil engineering. Had I done so, I probably would've had some success in the area years later."
Even though the Drexel University years left a sour taste in her mouth, Ms. Foxworth's love for art, fashion and culture did not disappear. In fact, they all intermingled. "I always liked things that were unique. My father loved art and collected many items over the years. That's where I got my love for art from. I'd see one's work on the street and purchase them – whether it'd be in London or in another country. Years later my love for art resulted in opening a gallery in New York City after my doctor warned me to slow down due to a heart condition I had developed. So the Foxworth Gallery was created. As a child visiting Philadelphia, my mother had great taste in dresses and clothing so I'd have my own fashion show when she was away at work! Despite being caught and grounded for wearing her clothes, I'd still looked at the pictures in the fashion magazines and be inspired. Several years later I was the first to wear dresses and clothing designed by Marc Bouwer. If you look at any painting from a particular period, such as the Renaissance, you'd see in what both men and women had worn the fashion of that period. So it all intertwined for me."
After college, because of a bet between Ms. Foxworth and her friends, she became a flight attendant for Eastern Airlines, which helped further her love and acquisition of fine art and fashion from many countries – Mexico in particular (which resulted in her opening "Ugenia," a Mexican boutique with silver, Malakite and Mexican artifacts). But it also came at a cost. Ms. Foxworth – "My father did not like the idea of my working as a flight attendant because he felt I was wasting what he saw as my hard-earned education. So he cut me off financially. But as time went on and he saw that I was not only making decent money working for Eastern but I was taking on outside work to pay the bills. I did courier work for a company delivering news reels that were shown in movie theaters and television. Another company hired me to do voiceovers for radio and TV commercials. Then there was all the art – paintings, sculptures, etc. – that I was bringing back from Mexico and other areas (all while paying off the customs officers with expensive liquor!) So when my father saw what I was doing, he understood and came around."
While on leave from Eastern Airlines, Ms. Foxworth opened a Mexican boutique in midtown Manhattan and later launched a hub for art, Foxworth Gallery, on the east side of NYC. With her living out her passion for art, fashion and culture, how did real estate enter the picture? "I had a flood at my art gallery, which was located on East 65th Street between Madison and Park Avenues. So, I worked with real estate agents to find a place to move to and was very specific as to where I wanted to relocate – which was between Madison and Park avenues from East 57th to East 79th Streets. But when these agents took me to places that were not within the specs I had requested, I let go of the real estate agents and decided to get my own realtor's license – which I did. But then I learned that not only did I have to work for a broker so get into the business but that broker had to hold my license for a certain period of time before I could start my own business. So I worked for a branch of Coldwell Banker and then another broker. But what inspired me to even go into real estate was the limited beliefs I ran into from brokers who felt that I should only live or own property in certain areas and not the ones I so desire."
In 2008, Foxworth Realty opened its doors at probably the worst time to do so – when the housing and financial markets crashed that year. But that didn't even give Ms. Foxworth an ounce of worry. "I'm very spontaneous and don't even think about the negatives or the woes of the world when I do make a move," said Eugenia. "It's what I've been doing all of my life and I must be doing something right. The Man upstairs is looking down saying, 'oh there shemgoes again... better keep an eye on her.'"
Through the years in real estate, Eugenia Foxworth joined the International Real Estate Federation, known as FIABCI. Today, she is currently the president of FIABCI-USA, the first African American in 70 years to be elected to this position and has specific goals outlined. Ms. Foxworth – "My mission is to educate people. When one reads about folks losing their properties and they hear those say, 'well, I didn't know' or 'I should have', it's heart breaking.
So my goals are to align with college and university professors to invite them to join FIABCI-USA. Whether they are teaching real estate, finance, architecture, real estate law – we would offer a free membership which in turn would enable a student within those studies to earn a scholarship. The objective is to have these scholarship students go within the communities to show, help and teach them how to have properties that would benefit those who live there.
These scholars can show folks within their communities what to look for in having properties, what pitfalls to look out for and to have access to information so they could own their properties. Home ownership is equity and that is an aspect that needs to be driven home in our communities. Another goal is to build awareness of FIABCI-USA here in the states. Internationally the organization is well known in Europe, Asia and South America. But it is my objective to make sure we are known here in the states and we are here to give back to communities."
One of many ways Ms. Foxworth is giving back is through her work as a trustee on FIABCI's International Scholarship Foundation. "I was invited to be on the scholarship foundation as a trustee, which I'm very happy to be a part of because this allows me to do exactly what my goal is and that's to give back and help the next generation through education. We have representatives from around the world on this board but for me this is a chance to create scholarship opportunities for students here in the USA as well as do fundraisers to help create these awards. Most recently a student from Columbia University was awarded a scholarship from our committee so I'm very excited to be a part of this."
Today, Eugenia Foxworth can add another milestone along her journey – podcast host for The Foxworth Theory, which streams live twice a week on the show's website (www.thefoxworththeory.com). The series will cover the very areas Ms. Foxworth is most passionate – art, fashion and culture. "My goal for 'The Foxworth Theory' is to bring together all those aspects that I've been a part of with the people who create the art, design the fashions, make the music, choreograph the dance and help define the culture. All these things I eat drink and feel every day. We'll invite legends to be a part of the show along with folks from the real estate world. What I want the show to do is help motivate and inspire others to pursue their goals and dreams."
So what is Eugenia Foxworth's living legacy? What is what she wants to give back today to others. "What I want to do is to help inspire and motivate our young people to achieve their goals. Young folks have always been a group I want to work with and tell them that they can achieve whatever it is they set their minds to doing. Don't ever let anyone tell them their dreams cannot come true. What I learned from my father and Bayard Rustin in regards to achieving goals and not letting anyone stop me is what I want to pass along to today's young people."
For media inquiries regarding Eugenia Foxworth, contact Double XXposure - [email protected]